Posted in Country : Turkey by François-Xavier Delmas | Tags : Black Sea, Country : Turkey, Rize, samovar, Tea, Tea Factory, tea garden, tea leaves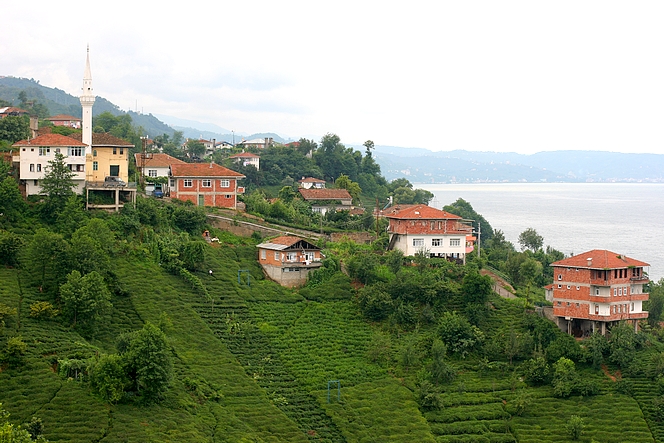 I'm writing from the Black Sea. I'm in Rize, on the Turkish coast, not far from the Georgian border. Here, the mountains falling into the sea are incredibly green and I wouldn't surprise you if I told you that they are covered with tea.
Turkey discovered tea at the end of the Ottoman Empire precisely because of the loss of the Yemen region where famous coffee is produced. So they had to fall back on the camellia, grown in hilly and damp areas. That's how the whole country began drinking tea, served very strongly and in nice tulip-shaped glasses here. Sometimes they resort to using samovars and diluting the tea, still very black, with very hot water.
Tea is king in Turkey. They drink it at anytime of the day or the night, sip it, put it back on the saucer, take it again straight away and chat while burning hands. But is it really good tea?
That's exactly the aim of my trip: finding in these mountains someone who produces quality tea according to the rule book, only by plucking the best leaves and watching not to break them. From this point of view, I have to admit that my trip isn't successful. I have met extremely nice people who'd do anything to show me their tea garden or tea factory. But not good tea. While going on with my searches, I leave you with this green and ochre-coloured harmony.
4 Comments by "Tea on the shore of Black Sea"
The author
François-Xavier Delmas is a passionate globetrotter. He's been touring the world's tea plantations for more than 20 years in search of the finest teas. As the founder of Le Palais des Thés, he believes that travelling is all about discovering world cultures. From Darjeeling to Shizuoka, from Taiwan to the Golden Triangle, he invites you to follow his trips as well as share his experiences and emotions.
Articles classified by themes
Blogs on tea in English
Blogs on tea in French
Cooking
Links to Le Palais des Thés
Past travels